The First Quarter : A 25-year History of Video Games
The First Quarter: A 25-year History of Video Games is an insider's look at the entertainment novelty that drove the evolution of high-technology. The book was compiled from more than 500 first-hand interviews with such people as Nolan Bushnell (founder of Atari), Shigeru Miyamoto (creator of Donkey Kong), Toru Iwatani (designer of Pac-Man), etc.
Click on the book to find out more, and order.
Please DO NOT copy this file on any other site, add only a link to download this file from this page or my index. Please do add links to my site along with screenshots. Please also leave comments.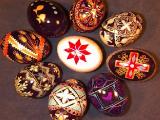 Read about BadCode Easter Eggs
BadCoder has included a number of Easter Eggs in his code, and this page gives details of them, along with some background information on how Easter Eggs originated. Click on the picture to find out more.